Mandarin Ducks
terug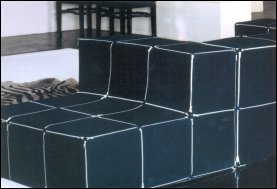 Cast
Cas Enklaar ... Manray
Anke van 't Hof ... Judy
Runa Islam ... Runa
Annemarie Oster ... Sonja
Marcel Osterop ... Gill
Nicholas Pap ... Nigril
Liz Snoyink ... Martha
Alwien Tulner ... Paige
André Arend van de Noord ... Carlo (as Andre van Noord)
Nicole van Nierop ... Sabine
Mandarin Ducks, the latest film by artist duo Jeroen de Rijke and Willem de Rooij, will enjoy its first showing at the Stedelijk Museum CS from 16 December to 12 February.
The film will be presented in the context of a selection of works from the Stedelijk Museum collection, chosen by the artists. Mandarin Ducks was the Dutch contribution to the 51st Venice Biennale, and was showcased over the last few months in the Rietveld Pavilion in Venice. Jeroen de Rijke and Willem de Rooij were invited to represent the Netherlands at the 2005 Biennale by Stedelijk curator Martijn van Nieuwenhuyzen on behalf of the Mondriaan Foundation.
A distinctive feature of the Venice presentation ofMandarin Ducks was the spatial situation in which there was a relation between the light and architecture of the Rietveld Pavilion in the Giardini of the Biennale, and the set used in making the film. In SMCS Mandarin Ducks will be shown in the context of documentation, paintings and objects from the Stedelijk Museum's collection. The presentation will provide insight into the complex of artistic and socio-political considerations that played a formative role in the realization of this work. The pieces selected from the collection include Slothouber and Graatsma's 'cubist constructions' from the seventies, Rietveld's 'Elling buffet', a series of lithographs by Schwitters, two Ensor paintings and a television adaptation of the farce 'Hey, Can I Have My Wife Back' ('Hé, mag ik mijn echtgenote terug') by John Lanting's Theater van de Lach from 1975, and graphic designs by Wim Crouwel for the presentation in Venice.